Main content starts here, tab to start navigating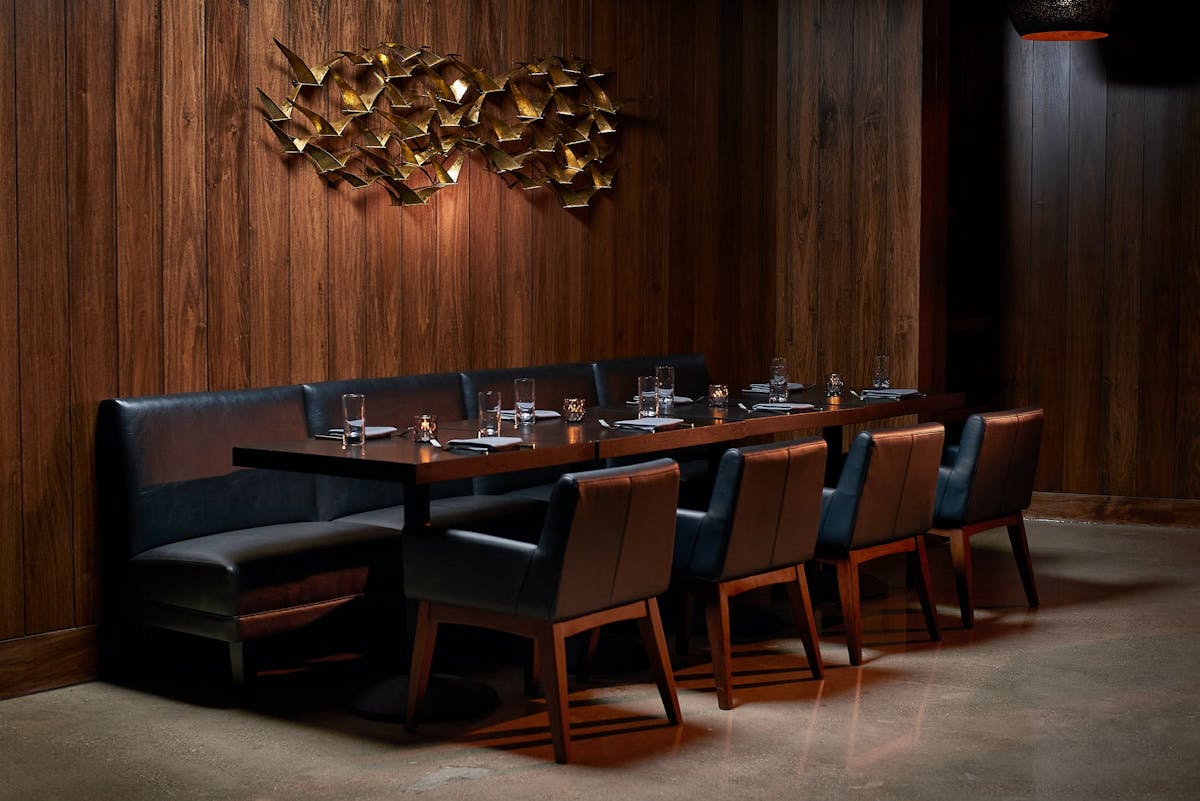 Executive Chef Jared Wentworth
The Dining Room and The Bar at Moody Tongue
A rocker at heart, eleven-time Michelin-starred chef Jared Wentworth fell into cooking at a young age as a means to support his traveling musical career. With the arrival of his first son, he shifted his focus to working as a chef full-time and continued this path for the next 25 years. A graduate of Kendall College, Wentworth's early career was spent in a number of former critically-acclaimed Chicago restaurants including Tizi Melloul and the kitchens of legendary chefs David Burke and John Hogan at Park Avenue Cafe. He credits the late great Keith Korn, whom he worked with at Chicago restaurant Gordon, for shaping his unique cooking style to transform classics into modern creations. When the opportunity came to open Quinn's Pub with restaurateur Scott Staples, he moved to Seattle to helm the restaurant as executive chef for five consecutive years.
In 2010, he returned to Chicago, as the opening executive chef at Longman & Eagle, co-operated by hospitality collectives 16" On Center and Land & Sea Dept. in Logan Square, earning the neighborhood hot spot a prestigious Michelin star in their first year and thereafter holding this ranking from 2011-2017. Wentworth went on to open additional concepts Dusek's Board & Beer in Pilsen, The Promontory in Hyde Park and later, Saint Lou's Assembly & MONEYGUN in the West Loop as chef/partner with 16" On Center, earning another Michelin star for Dusek's in both 2016 and 2017. In January of 2017, he accepted the position of culinary director for Heisler Hospitality and worked to re-concept Wicker Park's Trencherman restaurant into Trench for which he received a three-star review from Chicago Tribune food critic Phil Vettel. Eager to return to the kitchen and be a part of its inherent camaraderie once more, Wentworth resigned from his role as culinary director to resume work as an executive chef with highly-regarded chef and restaurateur Mathias Merges (Billy Sunday, Yusho). Together they opened the bi-level cocktail bar and restaurant Mordecai in the heart of Wrigleyville in 2018, again gleaning a three-star review by Vettel.
As long-time friends and past collaborators at Goose Island Beer Company as part of the Chefs Collaboration Series, Wentworth and Moody Tongue President and Brewmaster Jared Rouben always hoped to one day work together in a greater capacity. When Rouben and his business partner, CEO Jeremy Cohn, decided to move Moody Tongue's operations into Chicago's South Loop neighborhood to expand production and build out a new tasting room and restaurant, Rouben asked Wentworth to come aboard as executive chef of the new concept. The two traveled through France and Belgium to conduct research and development for two menus— a tasting and a la carte— that focus on one essential concept: food and beer pairing at the highest caliber. The Bar (casual) and The Dining Room (fine dining) at Moody Tongue will exhibit the endless possibilities of expertly crafted pairings cultivated from over two decades of experience brought to the table by Wentworth and Rouben. With an aim to provide elevated dishes with global influences drawn from his travels in a format that is fun and unpretentious, Wentworth's multi-course tasting and a la carte menus will unite beer and cuisine in an unprecedented, interactive way.