Main content starts here, tab to start navigating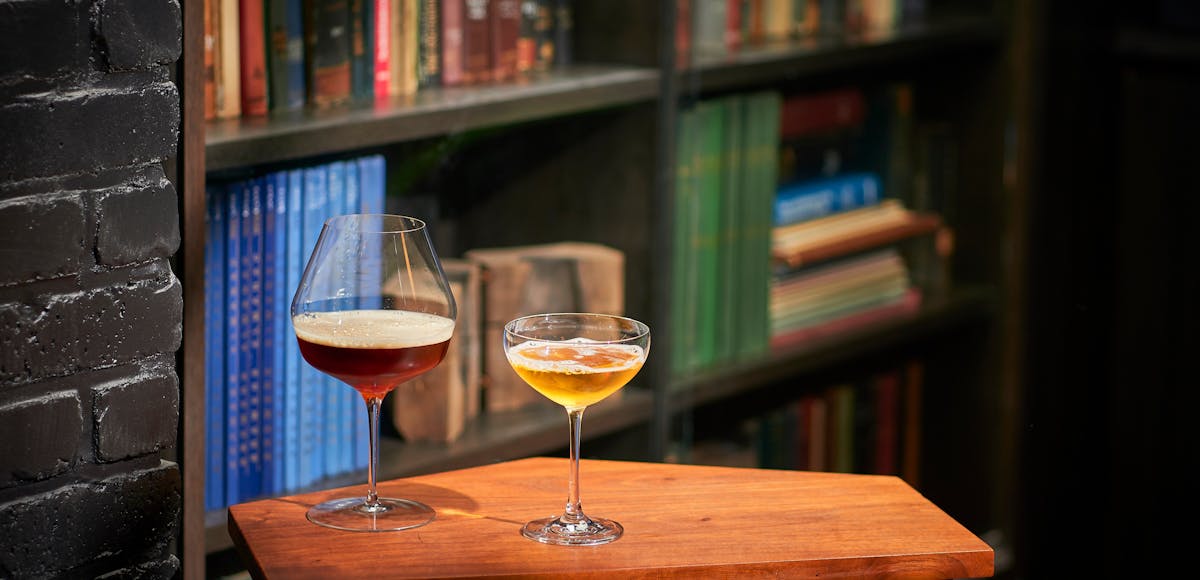 ABOUT MOODY TONGUE
Founded in 2014 in Chicago by cousins Jared Rouben and Jeremy Cohn, Chicago's Moody Tongue Brewing Company is built on the philosophy of culinary brewing, appealing to those with a discerning palate - or as they describe, a "moody tongue."
A graduate of the Culinary Institute of America in New York and the Siebel Institute of Technology, Rouben worked in several Michelin-starred kitchens before beginning to brew. Utilizing his extensive culinary background and brewing education, Rouben approaches brewing with a chef's mindset, carefully creating balanced beers that showcase layers of flavors and aromatics.
Each year, the brewery offers seven perennial beers, such as the Orange Blossom Belgian Blonde, Juiced Lychee IPA and Caramelized Chocolate Churro Porter, as well as a selection of limited release beers and wine or whiskey barrel-aged beers. The distribution of Moody Tongue beers focuses on culinary cities throughout the United States as well as select international cities.
In 2016, Moody Tongue expanded to open The Tasting Room within a 125-year-old abandoned glass warehouse in Chicago's Pilsen neighborhood. The venue served a menu of both year-round and limited-release beers in an intimate mid-century modern space showcasing a library, which housed the largest collection of beer books in the country. The stylish space quickly garnered critical acclaim and three years later, The Tasting Room earned the 2019 Jean Banchet award for "Best Bar". Later in 2019, Moody Tongue moved its operations to a new 28,600 sq. ft. space at 2515 South Wabash Avenue, immediately growing the brewery's production capacity and housing two world class dining concepts — a casual, à la carte tasting room, The Bar at Moody Tongue, as well as upscale, intimate fine dining restaurant, The Dining Room at Moody Tongue, both led by eleven-time Michelin star recipient Chef Jared Wentworth. In 2021 and again in 2022, Moody Tongue became the first wholesale brewery / restaurant in the world to receive an accolade from the Michelin Guide, earning Two Stars. Later in 2023, the brewery expanded into New York with the opening of Moody Tongue Sushi, a restaurant in the West Village neighborhood showcasing beer and sushi pairings.
Our Philosophy: Culinary Brewing
At Moody Tongue, our goal is to create thoughtful, exciting beers that blend familiar flavors with quality ingredients through our philosophy of culinary brewing: using a chef's mindset to highlight flavors and aromatics in balanced beers.
Culinary brewing rests on three principles:
1. Sourcing the highest quality ingredients
2. Understanding how best to handle those ingredients to showcase flavors and aromatics
3. Knowing when during the brewing process to incorporate these ingredients
Brewmaster Jared Rouben draws on his culinary training to forge this connection between the kitchen and our brewery, building recipes for our beers in the same manner a chef would for a dish. Our beers are created with simplicity and balance in mind and can be enjoyed both on their own or paired with food.
Beer is our food. We look forward to feeding your moody tongue.